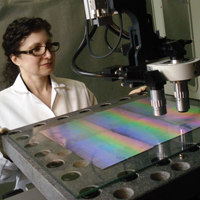 Diffraction gratings are used for an array of applications, from astronomy to telecommunications.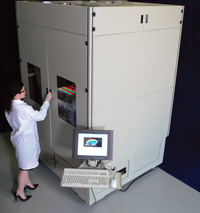 Industrial & Scientific Products
Rayvel's products and technologies are appropriate for a wide variety of industrial, scientific and government applications.
Automated Optical Test Stations
Rayvelís OTS 2000 system fully characterizes the performance of large optical flats, such as TV and computer screens, in a fully automated manner. Numerous safety features were incorporated that prevent damage to the optic during measurement process. A report is generated at the end of the test that provides a map of any defects on the optic and numerous other quantitative data that fully characterizes it. High accuracy servo driven translation stages allow for years of continuous use in a production environment with intuitive user friendly software. Defects as small as 1 micron can be detected (the diameter of human hair is about 100 microns). The system includes a motorized XY stage with dual cameras. One camera inspects for defects. The other camera is used at the operatorís discretion for close up views of the defects and opticís quality. The software is designed to be run by a technician with minimal training. Its modular design allows for adding tests in the future or modification of existing tests. This system is customizable to meet the exacting requirements of related applications, such as photonic crystal generation.
Do you test, inspect, measure, or characterize glass, diffraction gratings, or other optical flats for TVs, monitors, tablets, mobile phones or other devices? Let us know your challenges and we will provide a free consultation Click Here
Holographic Diffraction Gratings
Diffraction gratings separate light into its components, like a prism but with higher efficiency. Gratings offer a nearly endless array of applications including telecommunications, spectroscopy (sample analysis), astronomy and microscopy (precision measurement). Rayvel specializes in producing custom gratings to meet the exacting needs of our clients. Let us know your requirements Click Here
Optical Networking
Optical communications transmit, receive, and switch audio, video, text, and data via information encoded on light signals. The Wave Divisible Multiplexing (WDM) and Dense Wavelength Divisible Multiplexing (DWDM), under which allows multiple channels of data to be carried over a single optical fiber, requires filtering and switching that diffraction gratings can provide. Examples of components that utilize diffraction gratings include Add-Drop Multiplexers, signal monitors, dispersion compensators and gain flatteners.

Analytical Spectroscopy
Photonics can be used for non-destructive testing of liquids and gases. Laser light can be beamed through the test medium and reflected off a diffraction grating. A detector then creates a spectral ďfingerprintĒ of the reflected light. The chemical composition of the tested material can then be determined. Systems are often used by biomedical researchers, utility companies, government agencies, and environmental consultants.

Microscopy
The emergence of nanotechnology has heighten the demand for detecting and analyzing structures at the atomic level. Gratings can be used as alternatives to traditional optics to provide greater precision.

Astronomy
Diffraction gratings used in conjunction with telescopes and spectrographs can detect a planetís atmosphere or determine a starís type, composition, magnetic fields, motion, and temperature or even measure the speed of a supernova racing towards earth. This is achieved by analyzing light intensity from the celestial body at each wavelength.