3D & Motion Holograms

• Album Artwork
• Product Authenticity Seals
• Security Passes
• Merchandise
• Point-Of-Purchase Displays
• Projection Systems
---
For inquiries about Rayvel's 3D & Motion Holograms, please contact Rayvel Customer Service

---
Tel: 860-848-7422
Embossed
Embossed hologram labels, seals, identifiers or packaging provide an eye-catching addition to any product. This technique offers color shifting designs with elements that flash on and off.

They also provide cost effective anti-counterfeiting measures for product authenticity and security credentials, since holograms are nearly impossible to duplicate except from their original master. Hidden features can even be embedded when maximum protection is required. Contact us for a confidential consultation and estimate: CIA@Rayvel.com

Click here

to view a sample of an initial design we would typically provide with a quote (design sample).





Two channel product authenticity seal for Neumann, the preeminent brand of recording studio microphones.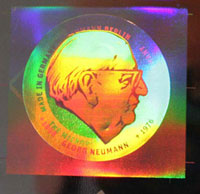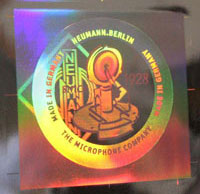 Forgery proof backstage pass. Color shifting designs.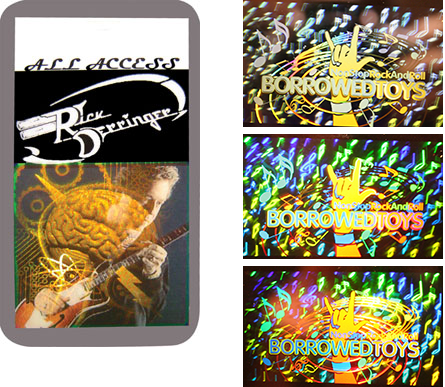 ---
Lenticulars
Lenticulars printing offers high resolution images with true to life brilliant colors. Options include 3D depth or, "flips" where a different image appears depending on which angle the lenticular is viewed.
Click here
for a free sample of the Borrowed Toys CD with full 3D art.