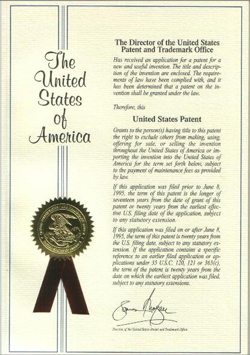 Narrow Angle Hologram
Patent # 7,259,899 and
Patent # 8,218,213

One of the first Rayvel innovations was Narrow Angle Hologram. Most holograms become visible with an "angle of reconstruction" of about 45 degrees. Basically, the light is between and well above the hologram and the viewer. In contrast, the application for the Holocator required a very narrow angle, about 10 degrees, so that the vehicle headlights illuminate the Holocator numbers, producing maximum brightness with a wide viewing angle. Hologram masters required for mass production are made on a photosensitive glass plate exposed to laser light. During the development of the Holocator it was discovered that the laser beam incident to the glass plate at such a narrow angle caused the light to reflect off the back of the plate and "bounce" between the faces of the glass, causing fringe distortions (several lines throughout the hologram).  Through relentless experimentation, Rayvel devised an optimized optical configuration and production process for the master holograms. Particularly noteworthy is the index matching technique of laying the hologram master glass plate on a thick glass block. The two were optically coupled with a thin layer of mineral spirits. The laser light passed through the master plate into the large block where it dissipated, preventing back reflections. 
The Narrow Angle Hologram can also be used as a critical angular alignment tool for vehicles, such as a ship docking with a station. The hologram gets very bright at a specified color when illuminated at a specified resonance angle. The hologram dims and shifts in color as you deviate from that angle. Other benefits of this technology include: 1) Illumination (not just reflection) from a narrow angle, even perpendicular, light source. 2) Provides for a passive device, thus requires no power. 3) Invisible when light source is absent. Contact us for licensing opportunities: CIA@Rayvel.com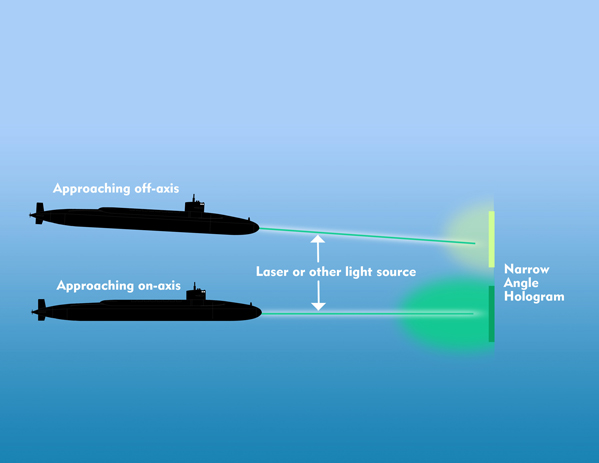 OTS 2000
When a Silicon Valley high tech company needed a solution to test and inspect large optics, they turned to Rayvel. This led to the development of the OTS 2000 optical test station. This fully automated machine can test and measure large optical flats such as solar panels, holographic optical elements, and flat screen panels for TVs and computers. It fully characterizes all physical and optical properties, including flatness, wave front analysis as well as reflection and diffraction efficiency. It also can map defects as small as 1 micron (the diameter of human hair is about 100 microns). Contact us with your analysis needs: OTS 2000 form.
Development of the OTS 2000 earned Rayvel the prestigious Gold Innovation Prize at the CT Quality Improvement Awards (CQIA), joining the ranks of other Gold award winners, such as Pfizer Global R&D, Pratt & Whitney and Yale University.
Wide Angle Hologram


Patent # 8,908,249
This invention allows the light source to be nearly parallel and close to the hologram, allowing the design of significantly flatter image display systems, useful for advertising signage, point-of-purchase, and trade shows.

The term "hologram" has been used to describe several simulated 3D techniques and projection systems. However, a true, classic hologram has unique characteristics beneficial for many image display and industrial applications. Two of those characteristics are parallax and redundancy. Parallax means that different sides of the recorded holographic image can be observed from alternate viewing positions. For example, with a true holographic image of dice, an observer on the left would see different numbers on the dice faces than an observer viewing it from the right of the hologram. Redundancy is the property where every portion of the hologram contains all the recorded information. In other words, if a hologram is cut into a thousand pieces, each piece still has the whole holographic image. This invention permits these and other distinct attributes of true holograms to be leveraged in a wider variety of enclosures. Contact us for licensing opportunities: CIA@Rayvel.com
Committed To Innovation
Rayvel is constantly advancing holographic technology. Contact us to explore how we can apply our technology to help solve your challenges: CIA@Rayvel.com